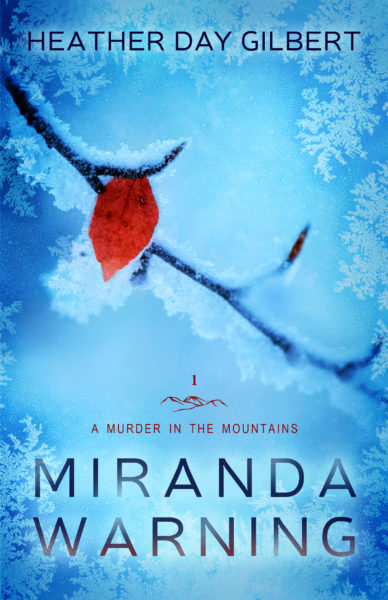 Child of the Appalachian mountains, Tess Spencer has experienced more than her share of heartache. The Glock-wielding, knife-carrying housewife knows how to survive whatever life throws at her. But when an anonymous warning note shows up in her best friend Miranda's mailbox—a note written in a dead woman's handwriting—Tess quickly discovers that ghosts are alive and well in Buckneck, West Virginia. Hot on a cold trail, she must use limited clues and her keen insight into human nature to unmask the killer...or the next victim might be Tess herself. Tinged with the supernatural and overshadowed by the mountains' lush, protective presence, this twisting psychological mystery is the first in A Murder in the Mountains series. This novel is written from a Christian worldview.
About the Book
Praise for MIRANDA WARNING:
"Miranda Warning is a captivating read that grabs you by the hand and jerks you along…An intricately woven plot kept revealing bits of the puzzle while continuing to build the suspense and danger. Thomas and Tess were perfect for each other; the author certainly captured the realism of marriage, the good and bad…it was endearing to see how the entire Spencer family interacted. Miranda Warning was a page-turner for me, and I can only hope Heather Day Gilbert is working on the next installment in the Murder in the Mountains Series." ~ 5 Star Review from Brenda Casto for Readers' Favorite, Aug. 2014
"Tess Spencer will make you fall in love with her, then push you away, then charm you back into love again. She's got a past she'd like to forget, a future she's still learning to embrace, and a few skeletons–er, ghosts–in her closet, but when those she loves are in jeopardy, watch out! This West Virginian, Glock-wielding mountain mama goes all Mama Bear! Deliciously creepy mystery, well-rounded cast, delightful small town setting. Can't wait for Book Two!" ~ Becky Doughty, author of Waters Fall
"The perfect blend of spine-chilling suspense and cozy mountain mystery, Miranda Warning is that rare novel that has it all: a unique setting, rich characters, and a plot so riveting you can't look away. Best of all, it has Tess Spencer, a tough young heroine with a tender heart for those she loves and sense enough to pack a Glock when she needs to." ~Karin Kaufman, author of The Witch Tree, a 2011 Grace Award finalist
Other Books in "A Murder in the Mountains"
Disclosure of Material Connection: Some of the links in the page above are "affiliate links." This means if you click on the link and purchase the item, I will receive an affiliate commission. I am disclosing this in accordance with the Federal Trade Commission's
16 CFR, Part 255
: "Guides Concerning the Use of Endorsements and Testimonials in Advertising."