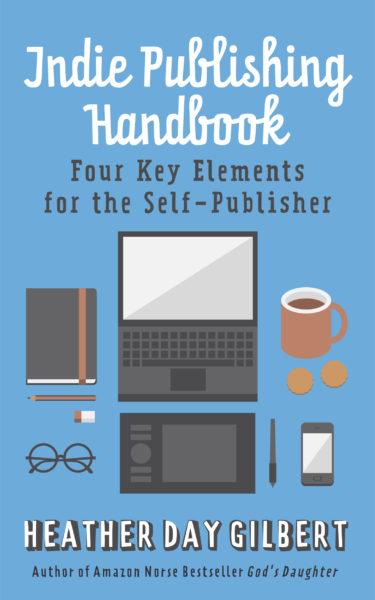 Are you dreaming of your own career as an independent author and self-publisher? This concise handbook covers the four key elements every self-publisher must oversee for successful book publication: (1) editing, (2) creating cover art and blurbs, (3) formatting and uploading books, and (4) marketing. Focused advice will help you maneuver these key elements, whether you outsource or learn to master them yourself. You'll also find a bonus section with practical tips from seasoned independent authors. Indie Publishing Handbook: Four Key Elements for the Self-Publisher is your one-stop for basics on everything you need to get started and excel as an independent publisher. HEATHER DAY GILBERT has independently published four books. Her debut novel, God's Daughter, has remained on the Amazon Norse Bestseller list and Amazon Norse Top-Ranked list for over one year. Her contemporary mystery, Miranda Warning, is the successful start to the Murder in the Mountains series.
About the Book
Praise for the INDIE PUBLISHING HANDBOOK:
"Heather Day Gilbert is a teacher, encourager and fellow sojourner, with an extraordinary heart to help authors wade through this new world of publishing. Her newest release, Indie Publishing Handbook: Four Key Elements for the Self-Publisher, is a product of that genuine spirit. Written in the most relatable language, this book will inform and inspire you to finally take the leap into publishing independently." ~Connie Almony, author of Amazon Bestseller At the Edge of a Dark Forest
"Whether you've decided to jump head first into the self-publishing pool, or are still in the should-I-or-shouldn't-I phase, the Indie Publishing Handbook is required reading. Heather Day Gilbert lays out four essentials that every wannabe indie author should know, all written in a straightforward, easy to understand format. Highly recommended." ~Michelle Griep, author of Writer Off the Leash: Growing in the Writing Craft
"Don't be fooled by the size of this handbook. It's a goldmine of information for both new and established indie authors. If you can buy only one guide to indie publishing, make it this one." ~Karin Kaufman, author of The Witch Tree, a 2011 Grace Awards Finalist
"Concise, practical guidance from a novelist who has learned to negotiate the obstacles and opportunities of becoming your own publisher." ~Andy Scheer, book editor and writing coach
Disclosure of Material Connection: Some of the links in the page above are "affiliate links." This means if you click on the link and purchase the item, I will receive an affiliate commission. I am disclosing this in accordance with the Federal Trade Commission's
16 CFR, Part 255
: "Guides Concerning the Use of Endorsements and Testimonials in Advertising."