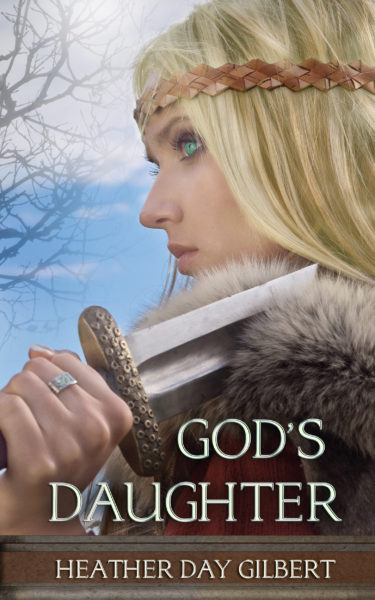 One Viking woman. One God. One legendary journey to North America. In the tenth century, when pagan holy women rule the Viking lands, Gudrid turns her back on her training as a seeress to embrace Christianity. Clinging to her faith, she joins her husband, Finn, on a journey to North America. But even as Gudrid faces down murderous crewmen, raging sickness, and hostile natives, she realizes her greatest enemy is herself--and the secrets she hides might just tear her marriage apart. Almost five centuries before Columbus, Viking women sailed to North America with their husbands. God's Daughter, Book One in the Vikings of the New World Saga, offers an expansive yet intimate look into the world of Gudrid Thorbjarnardottir--daughter-in-law of Eirik the Red, and the first documented European woman to have a child in North America. This novel is based heavily on the Icelandic Sagas and is written from a Christian worldview.
About the Book
Praise for GOD'S DAUGHTER:
"The life of Vikings in North America is energetically described, and the entire cast of characters feel fresh and vivid, including Leif Ericson and Gudrid's father-in-law Eric the Red… a remarkably assured tale, well-recommended." ~ Historical Novel Society Reviews, May 2014
"Gudrid is a protagonist that any woman can identify with and relate to…God's Daughter is not a frivolous or blithe novel, but a richly detailed one, a tale meant to be savored and revisited time and time again." ~ 5-Star Review from Kristi Lindsey for Readers' Favorite, Dec 2013
"Vivid, powerful…triumphant. This story took me by the heart." ~ Joanne Bischof, award-winning author of the Cadence of Grace series
"God's Daughter offers a brave, fresh look at a lost way of life and the Vikings who left an indelible mark in history. Author Heather Gilbert weaves a riveting novel with unforgettable characters and circumstances, the first installment in a series sure to resonate with historical fans. The stunning cover is only the beginning!" ~ Laura Frantz, Christy finalist and author of Love's Reckoning
"God's Daughter by Heather Day Gilbert is a stirring tenth century saga of early Christianity, and one Viking woman's heroic struggle to sustain her faith and her marriage amidst a dangerous voyage to North America. Heather Day Gilbert's voice is strong and certain, her story world breathtakingly vivid, the character of Gudrid one I will never forget." ~ Lori Benton, author of Burning Sky
Other Books in "Vikings of the New World Saga"
Disclosure of Material Connection: Some of the links in the page above are "affiliate links." This means if you click on the link and purchase the item, I will receive an affiliate commission. I am disclosing this in accordance with the Federal Trade Commission's
16 CFR, Part 255
: "Guides Concerning the Use of Endorsements and Testimonials in Advertising."