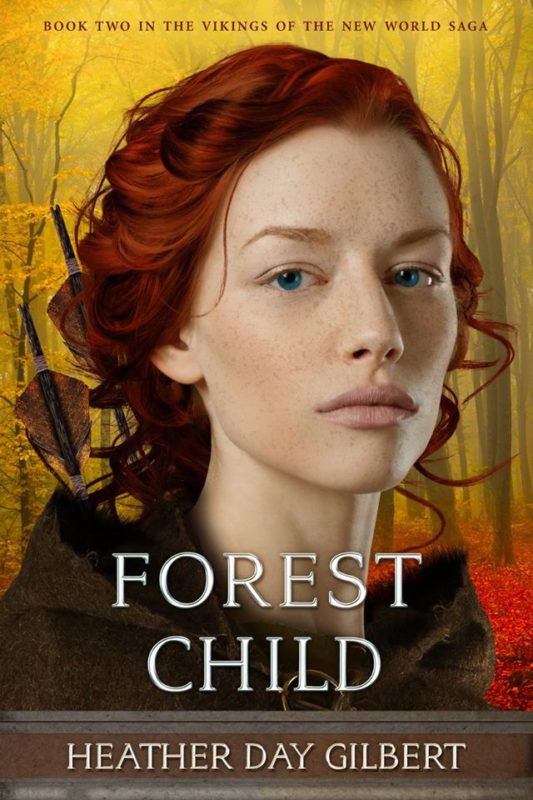 ~Recipient of a Publisher's Weekly Starred Review~
Viking warrior. Dauntless leader. Protective mother. Determined to rise above her rank as the illegitimate "forest child" of Eirik the Red, Freydis launches a second voyage to Vinland to solidify her power and to demand the respect she deserves. She will return home with enough plunder to force her brother, Leif, to sell her the family farm in Greenland. But nothing can prepare her for the horrors she must confront in Vinland...and nothing can stand in her way when her family is threatened. In her race to outrun the truths that might destroy her, Freydis ultimately collides with the only enemy she cannot silence—her own heart. Historically based on the Icelandic Sagas, Forest Child brings the memorable, conflicted persona of Freydis Eiriksdottir to life. This immersive tale is Book Two in the bestselling Vikings of the New World Saga.
Order Now!
About the Book
Praise for Forest Child
"Gilbert crafts an engaging story depicting timeless human struggles with faith, love, loyalty, and leadership." ~Publisher's Weekly starred review
"The Vikings of the New World Saga contains some of the most profound characterization I have ever read. Inlaid with both tension and turmoil, romance and redemption, like its predecessor God's Daughter, Forest Child takes the reader on a journey that is anything but gentle—yet unrivaled in its poignancy. With each turn of the page, hearts are searched and the love of a mighty God has the power to triumph. By illuminating the lives of a pagan culture, we readers are given a profound reminder that our souls are of the same make as the Vikings'. The weapons we wield may not be of iron or steel, but they are just as powerful, and though our choices may not affect a village of loved ones, to seek goodness and wisdom is a call that stretches across even centuries of time. Set within a most stunning landscape, and filled with a genuine cast of characters, Forest Child is a heart-wrenching portrayal of love and humanity and one that will hold a special place in my heart."
~ Joanne Bischof, award-winning author of The Lady and the Lionheart
"It's the rare book that draws me in so fully that I respond with gasps and tears and a quickened heart rate. It's the best kind of book that makes me forget about the dishes in the sink and the meals that need to be made. It's my favorite kind of book which keeps me up late into the night with a strong desire to find out what happens next.
Forest Child by Heather Day Gilbert is such a book.
It's no exaggeration to say that I've waited two years for this book. My patience paid off. Freydis is well rounded, complex, her character so very real in her fierceness and vulnerability. The plot moves, keeping the reader turning page after page, unable to abandon the story. From the first page to the last, the reader is engaged with the characters.
Whatever you do, don't miss this book."
~Susie Finkbeiner, author of A Cup of Dust: A Novel of the Dust Bowl
"Forest Child is one of the bravest works of fiction I've ever read. Brimming with tension, yet laced with tenderness, this powerful saga is sure to keep you turning the pages far into the night. An ingenious blend of Viking history and timeless issues of the heart still relevant today."
~Jocelyn Green, award-winning author of the Heroines Behind the Lines series
"In Forest Child, Heather Day Gilbert has written a strong heroine that epitomizes the term against an intimate and unflinching tale revealing remarkable historical detail, dark family secrets, and a cast of characters that left an indelible influence on the spread of the Christian faith."
~Nancy Kimball, author of Chasing the Lion
"Using the same vivid first-person, present-tense that she used in God's Daughter, Heather brought me straight into the Viking world of Freydis, a tough-shelled woman with a bleeding heart. The profoundly redemptive message of this story – the real-life themes – the characters portrayed so well that they keep coming to my mind days later… This is a starkly beautiful, realistic historical novel about the authentic transformation that Jesus Christ can bring to those who call on the Name of the Lord. I highly recommend that you put this one on your to-read list for the fall!"
~Alicia G. Ruggieri, author of All Our Empty Places
"In Forest Child, Heather Day Gilbert takes the reader deep enough into the thoughts of Freydis that her emotions and her actions become equally riveting as the story progresses. The extraordinary tales from a vastly different, often dark culture become personal, relatable, and ultimately hopeful."
~Christina Coryell, USA Today bestselling author
"Forest Child. An enthralling Viking tale coupled with the heart-rending journey of a troubled soul.
Fierce, inscrutable Freydis Eiriksdottir grabbed my heart and didn't let go. I loved her even as I deplored her actions, mourned for her brokenness, and ultimately rejoiced in her transformation. Heather Gilbert has once again brought the Vikings to larger-than-life in the pages of Forest Child with authentic historical detail, a captivating story, and an unforgettable heroine."
~Stephanie Landsem, author of The Living Water Series
"Fierce in protecting her family, vulnerable in her refusal to accept love, Freydis the forest child is a heroine like no other. In the end, the weight of her own story—its brutality and loneliness—crushes her. But in that crushing, redemption whispers.
This is what historical fiction should be—a breathtaking journey to a distant time and place with characters whose stories touch our hearts and whose joys and sorrows are, at their core, very much like our own."
~Karin Kaufman, author of the Anna Denning series
"Forest Child is a well written story of survival and hope, betrayal and forgiveness. Deep characters as rich and savage as Viking history, this novel is a testament that love, courage, and faith are timeless. A must read for historical fiction fans."
~Peter Leavell, award-winning novelist & historian
Other Books in "Vikings of the New World Saga"
Disclosure of Material Connection: Some of the links in the page above are "affiliate links." This means if you click on the link and purchase the item, I will receive an affiliate commission. I am disclosing this in accordance with the Federal Trade Commission's
16 CFR, Part 255
: "Guides Concerning the Use of Endorsements and Testimonials in Advertising."